Maxwell's language preference setting allows you to choose whether you view text in Maxwell in English or Spanish (Español). Whether you're logging into the Maxwell site on your phone or your computer, the Spanish language translation option can help you view, update, and enroll in benefits made available to you by your employer.
Learn more:
How to select Spanish as your language preference in Maxwell
You may select Spanish (Español) as your language preference from almost any page on the Maxwell Health website - including the login page!
To get started:
Click the language option in the top right corner of your menu bar.



Select English or Español and then save your language preference.



For example, if you select Español as your language preference, you will then click Guardar selección.



You will now see the language you've chosen throughout the entire Maxwell experience.


Once you've set your language preference, it is saved in Maxwell. If you leave your session and log back in, Maxwell will automatically open using your saved language preference - English or Español.
Change your language preference
If you need to change your language preference in the future, you can adjust it at any time by following the steps listed above or by setting your language preference under your contact information on your profile.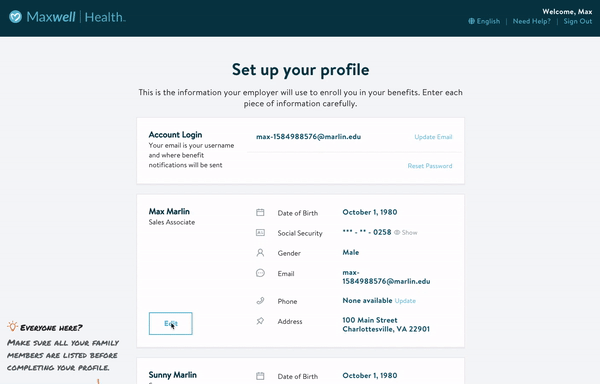 Bonus! While Maxwell's default language preference is English, if a Spanish preference is detected on your mobile device or as a browser setting, Maxwell will automatically appear in Spanish on your device.
How Maxwell translates English to Spanish
Maxwell has taken a unique approach towards providing a Spanish language experience for employees. Given the complex nature of benefits as well as your employer's customization needs, the Spanish language feature in Maxwell uses a powerful combination of expert human translators and machine intelligence.
While Maxwell does its best to provide a clear and easy to understand translation, there may be cases where words or sentences are unclear to you. If you are unable to understand areas that have been translated in Maxwell, we recommend you reach out to your HR Administrator to clarify any questions you might have.